Principal's Message
(Foreword of SPOTLIGHT 2009 Issue 1)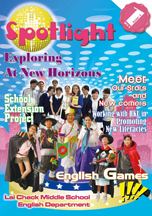 I am very glad to introduce to you the first issue of our English Magazine SPOTLIGHT. Our school, Lai Chack Middle School, is like a big stage for students to perform and act out their lives. Every student is the leading character of their own life drama and deserves equal amount of appreciation of their talents and advancements of various aspects. SPOTLIGHT, our English Magazine, is meant to unveil the flourishing achievements of students that are worthy of appreciation and compliments. In the past, there was a concept that CMI schools may fall short on providing students with an English-rich environment. However, such saying is no longer valid now. In the first issue of SPOTLIGHT, we are showing you the various opportunities we offered students to pursue the joyful and unforgettable experience in learning and using English.

"Exploring at New Horizons" is the theme of our first publication. As we realize the modern world has been changing at a fast pace due to globalization and rapid technological advancement, it is increasingly essential for both teachers and students to keep pace with changes through learning and thinking at new horizons. In fact, our school has long been training students to meet and adapt to the new challenges they may face at this modern age. Breaking down the walls that separate classroom learning and the real world has been one of our major objectives. We hope that with the guidance and assistance from our teachers, all Lai Chack students could open their minds and explore issues from multiple perspectives, perhaps at new horizons.

Thanks to the grace of my Lord, the activities and programmes run by the English Department have almost completed with encouraging results this year. I would like to take this chance to acknowledge the efforts and hard work of the whole team of the English Department who wholeheartedly contribute to creating opportunities for our students and facilitating students' achievements all the way through. I would also like to make special acknowledgement to our English Department Head, Ms. Cherry Wong for leading the department in realizing all the plans and goals in this rewarding year. Mr. Kelvin Ng and Ms. Fion Li, the Chief Coordinators of the editorial team, also deserve commendations. Without their gruelling work and unwavering dedication, publication of this magazine would forever be a pipe dream. I believe passion is a force of motivation to get things done well. Having a team of passionate teachers, I am sure their work will soon bear fruit!
Principal Mr. Tsang Yau-shing