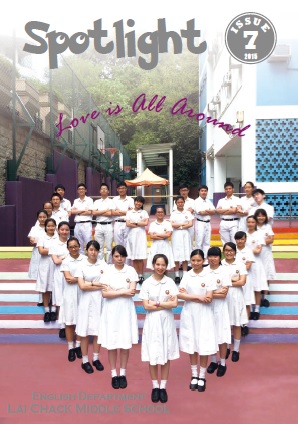 Message from the Principal
(Foreword of SPOTLIGHT 2015 Issue 7)


Love is All Around


It is with great joy that I welcome you to the 7th edition of Spotlight, the annual English magazine of Lai Chack Middle School. Supported by a team of devoted teaching staff, Lai Chack Middle School is always committed to creating a dynamic learning environment for students, with a vision to nurturing them into proactive learners.
"Love is All Around" is the theme of this edition. Love is a universal feeling, which is felt by every living being on this earth. It is also the engine that keeps us in motion, leading us to achieve our goals and dreams in life. Love is more than just the three words mumbled to your family and friends. It should be sustained by action and devotion in the things we do and react to every day. As stated in 1 Corinthians 13:4-7, 'Love is patient and kind; love does not envy or boast; it is not arrogant or rude. It does not insist on its own way; it is not irritable or resentful; it does not rejoice at wrongdoing, but rejoices with the truth. Love bears all things, believes all things, hopes all things, endures all things. Love never ends.' God's love for us is a perfect example of love in action.

In this edition, our editorial team interviewed Mr Sammy Leung, a well-known DJ, MC and actor, who specially came to our school and shared God's love with us. Our team also interviewed Ms Saron Yeung, the blogger of the Facebook page 'The Hong Kong Girl Who Married The Canadian Boy'. Here, I have to express my heartfelt gratitude to Mr Leung and Ms Yeung for the inspiration they brought us through the interviews.

By producing Spotlight, all students and teachers hope to share the colourful school life at Lai Chack Middle School with you. We sincerely hope it will be a delightful reading experience to you.


Mr. Tsang Yau-shing
Principal
Lai Chack Middle School